THE GLENDIMER TWO APARTMENTS: 120 Ann Street, apartment 26, Pullman, Wa 99163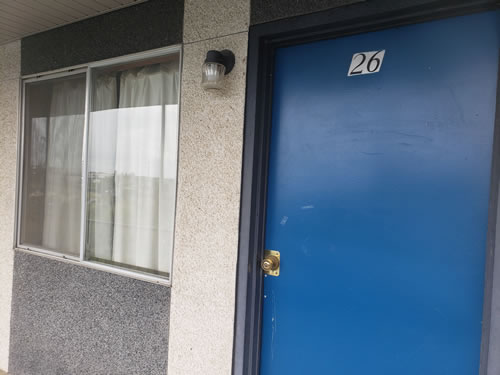 Apartment entry.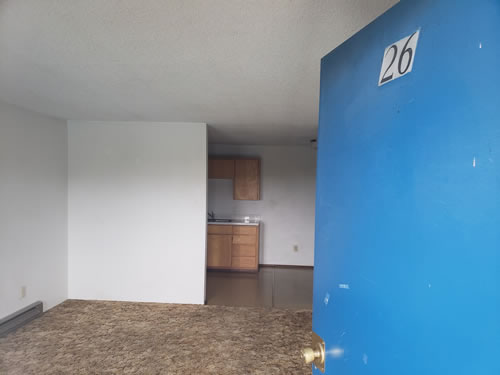 As you open the door, the livingroom and kitchen obsequiously line up to serve to you.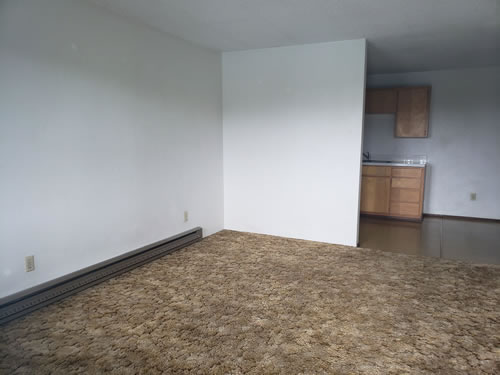 The kitchen is implacably beckoning.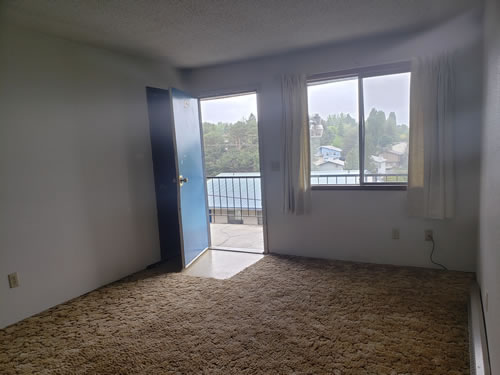 "Wait" you say, (as if you now have a conversation with the kitchen!). You turn around and the outside green view pulls you; it feels good.
"Go on! Let's see the rest of the apartment." A voice urges you on, but you yank yourself around once again. That green you saw deserves another look.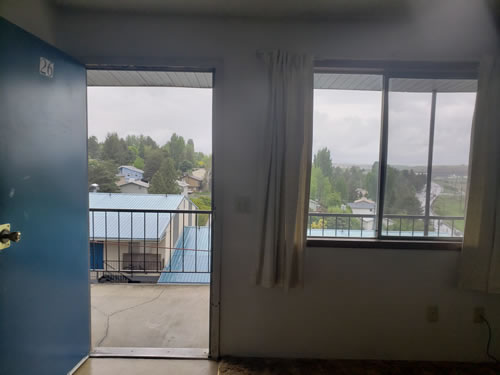 "Oh, yes!" You exclaim to yourself. "I like it." The words escape you in a whisper.
You zombily walk to the entry to peek outside. "I LIKE IT!" You utter audibly now.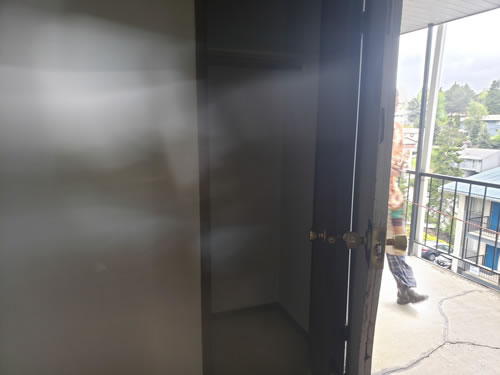 You're shown the coat closet. "Mm-mm." You say politely while your eyes are drawn out to that green view once again.
"This is the coat closet." You're told but some kind of a "green" bond halves your attention.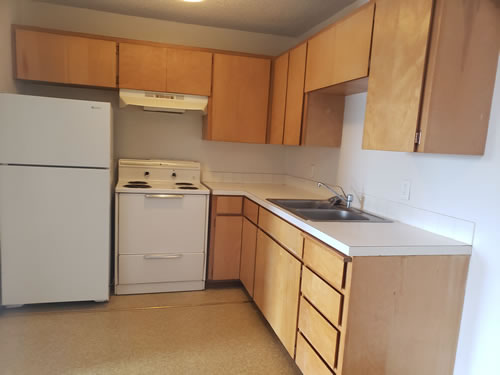 Still thinking green, you're ushered into this well-designed contemporary kitchen -- good appliances and plenty of cupboards -- absolutely nothing left to be desired.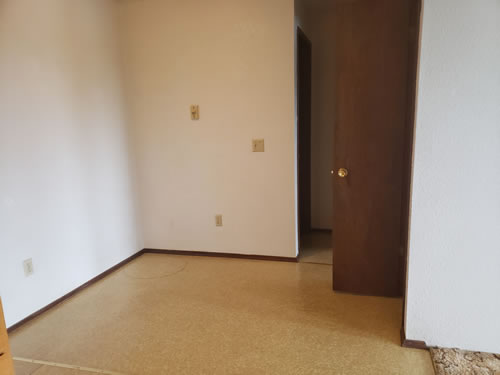 You're turned around and the dining corner off the kitchen fills your view.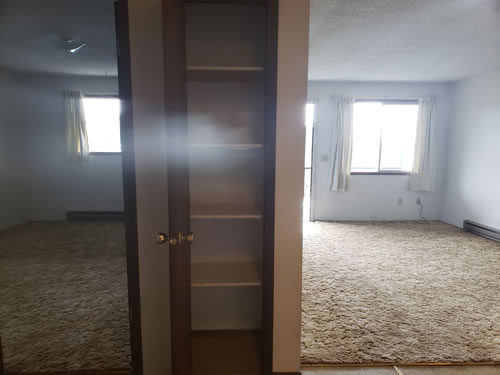 You're marched into the bedroom pausing to take in the pantry. On you right is the living room, and on your left the bedroom.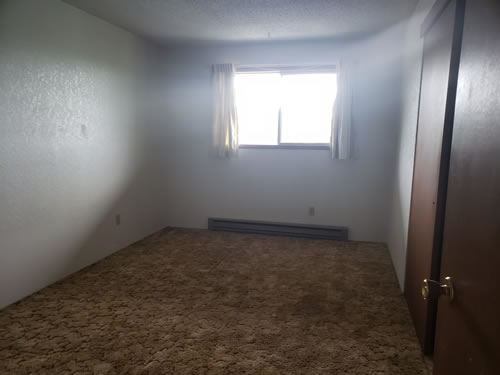 "Here you'll spend one third of your life, like it or not." You're reminded.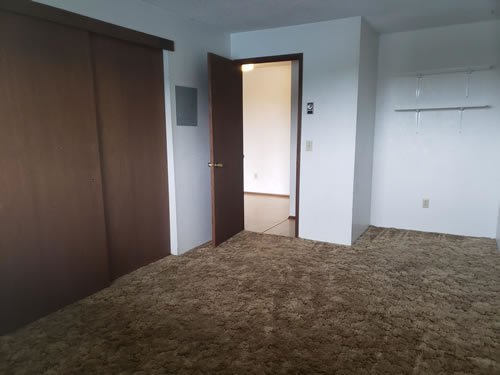 You're asked to note the large closet. But your eyes focus on what looks like a wasted space on the right. "What's that for?" You demand to know with an air of pent-up authoritative expertise. "It's the study area; it's where your desk goes." Comes the eager answer. An ah-ha moment for you.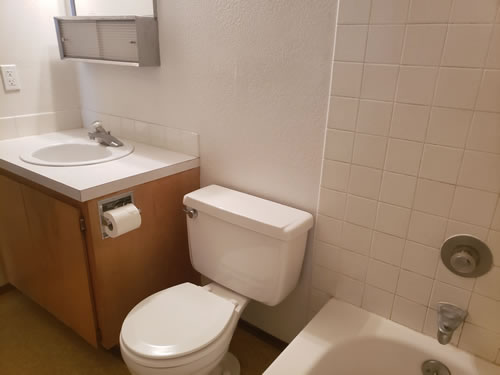 You get rushed to the bathroom. "These people don't give you enough time." You think annoyingly to yourself. "The demand for our apartments is phenomenal." You're told.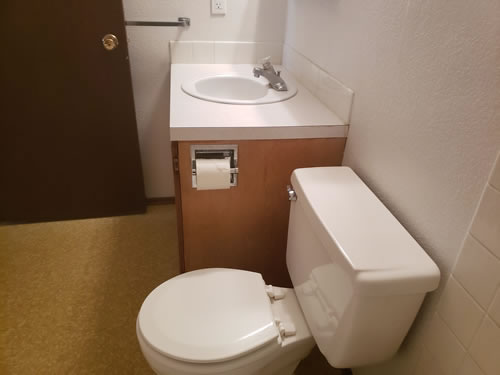 You look over the standard contemporary bathroom. You feel like sales pressure is forced on you. "Really, the demand for our apartments is unprecedented. I'm showing this apartment again in 15 minutes." The confident voice twits in a matter-of-fact tone.
You become aware of having to arrange your thoughts in a hurry. The bathroom view fuzzily fills your horizon.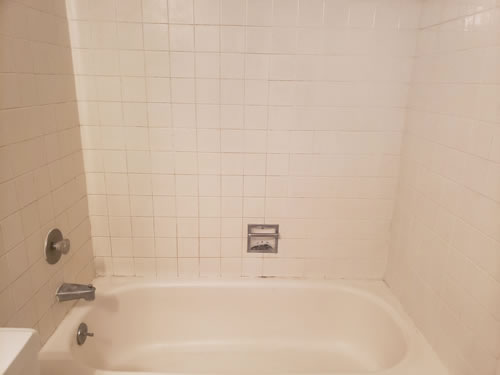 You're pushed to take note: "Standard contemporary, tried-and-true bathroom." -- "OK, I'll take it, damn it!" You say almost losing your cool. Phew!
Smart and efficient contemporary living, quiet and close to campus; also just across from Schweitzer Labs. Here's the
Floor plan
and here's the building's
Apartment Locator
.