THE GLENDIMER FOUR APARTMENTS: 1445 Turner Drive NW, apartment 9; Pullman, Wa 99163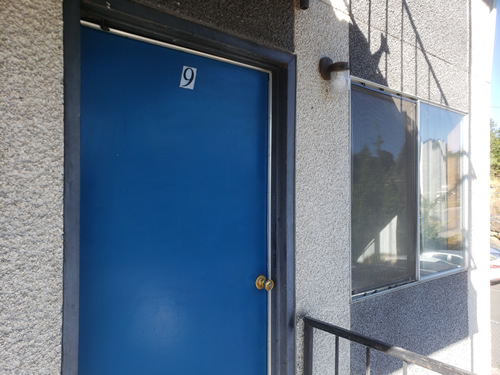 Hi, this is my front door on the first floor, on the north side. There's one floor below and one above. I'm cool in the summer and warmish in the winter. The heating bill is among the lowest as I lose next to nothing from either of my sides, as well as from either above or below. I'm economical, efficient, sufficient, and super affordable. See my location in the building
here
.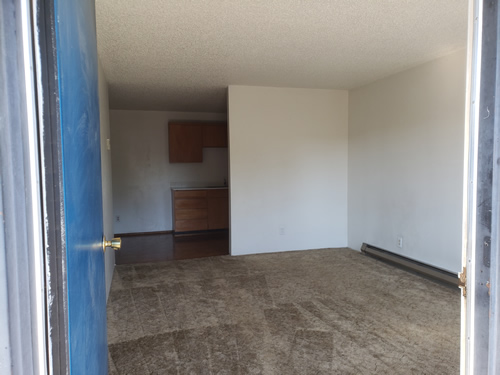 I'm glad you came. The last tenant, a very nice person, stayed and stayed. i thought he'd never move out. Most people don't realize that apartments have feelings too. We get bored once in a while; a change is welcome because we get a thourough cleaning. I get to smell good all over, all of me. Will you keep me clean?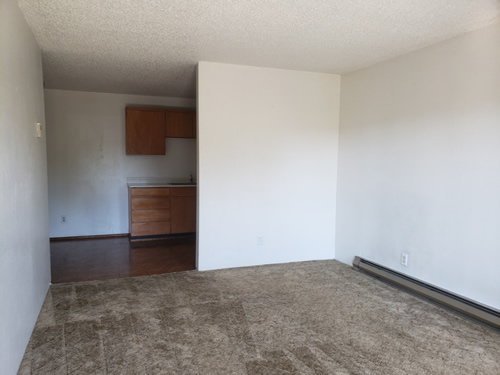 Please come in. Let me show you around. Forgive me if I'm too proud of myself. I think my livingroom is great.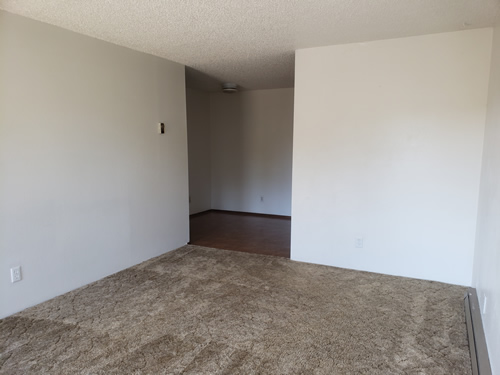 Let me turn myself around. Isn't my spaciousness dazzly?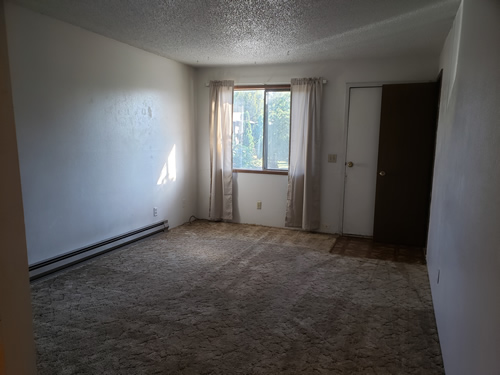 Let me turn around some more. See that green through the large picture window. I like taking in the view once in a while, and prize my sunning as well -- I adore natural light. Sure, the nights are interesting too.
I'm proud of this coat closet. You come home, you take off your coat and maybe even your street shoes and stick them in here.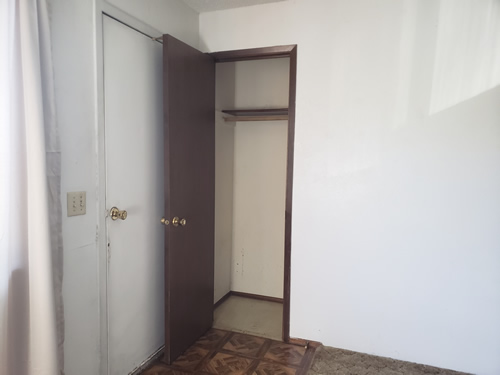 Like magic your street things are out of sight. You can close my closet door now. I like being neat and clean, you see.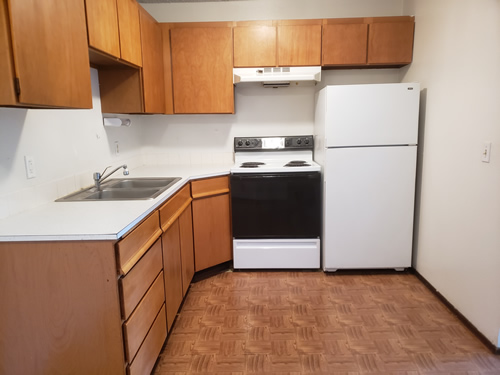 Look at my beautiful kitchen. Don't you love this color scheme? I think I'm beautiful, I know you'll agree, and if you don't, I question your taste.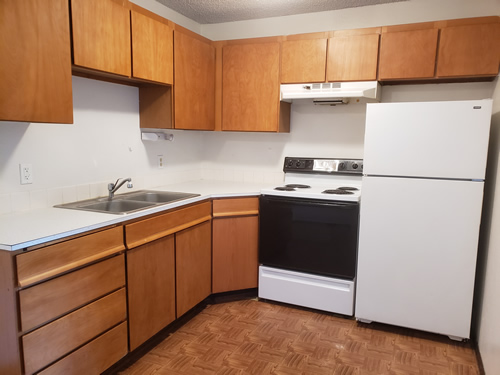 I have as many cupboards as any apartment worth its salt. Look at my double sink and my counter space? Com'on, what's there not to like? If I could, I'd parade me on main street.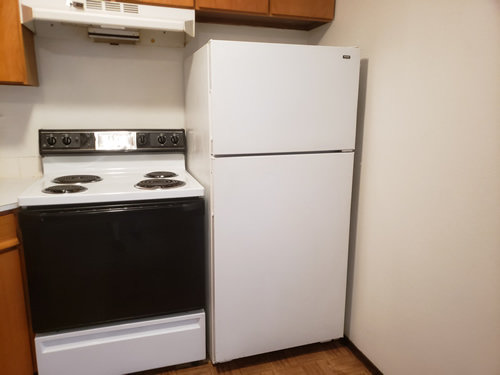 I'm not quite friendly with these appliances. I have not known them very long. This black and white stove is very stuck up -- she keeps humming about how black is the color of luxury in some countries. Go figure!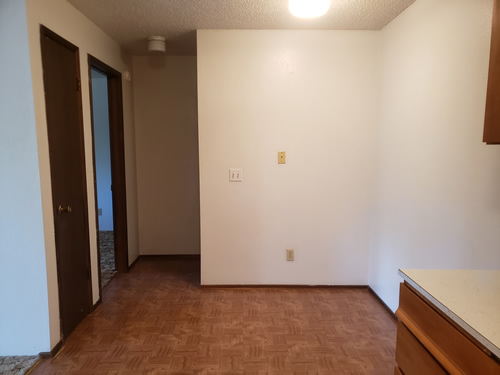 My kitchen thinks that being a kitchen is interesting. It keeps yapping about how having a matching dining room is like two siblings dressed alike on a Sunday afternoon.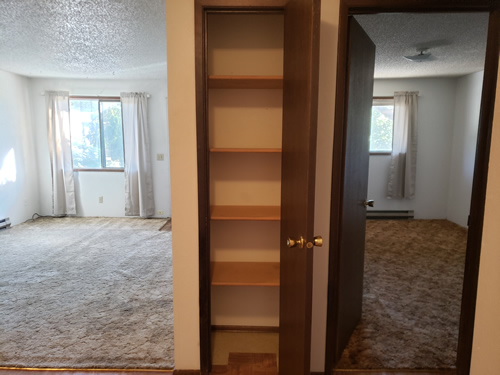 This is my elegant pantry. It thinks it was put there to keep the livingroom and the bedroom apart -- you see, these two can't stop arguing: "I'm more beautiful than you." "No, i am!"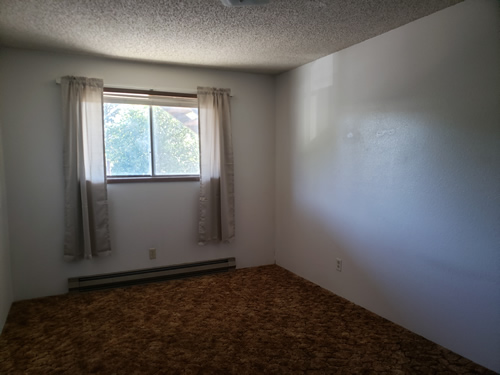 For a couple of days now, I've been alone. I kinda like it. You see, people can move from one place to another, they can go on vacation and much more, but what can we, apartments, do? I'm stuck here. So, a few days alone feels good.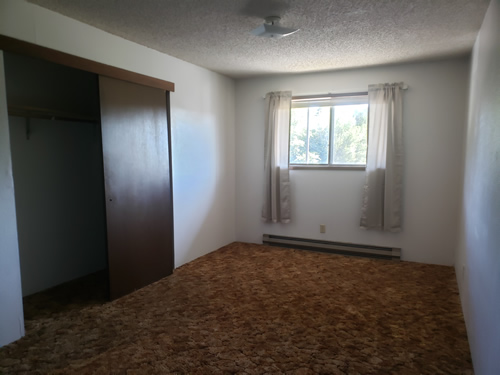 Let me turn around for you. See my big closet! If we become friends, I'll let you hang your clothes in here. I'll even let you put things on my floor.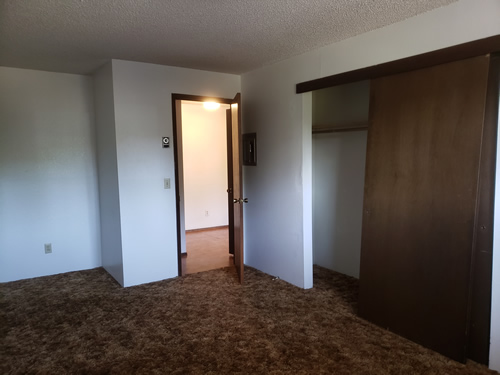 This is my bedroom entry. Bedrooms too can get lonely. They like looking out that door; they amuse themselves peeking into the corridor's comings and goings sometimes.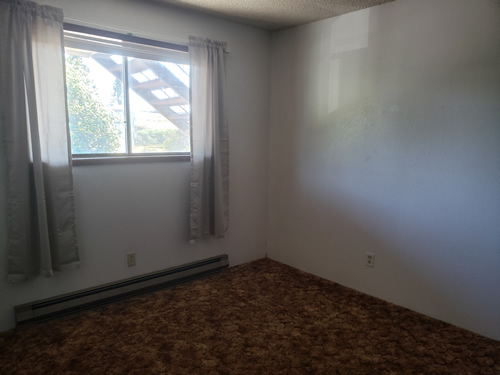 I was talking to my livingroom the other day. It said there are no windowless bedrooms. I'd never thought of it that way. I wonder why, but I'm glad I've got a great window myself.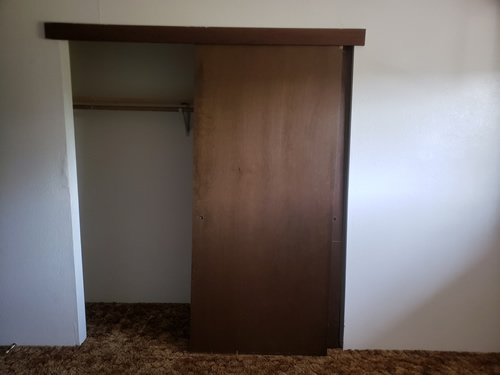 This is my closet again. I want to be sure to point out the extra space on the sides.
Long ago, bedrooms had no friends. I'm one of the lucky ones; I have a steady friend.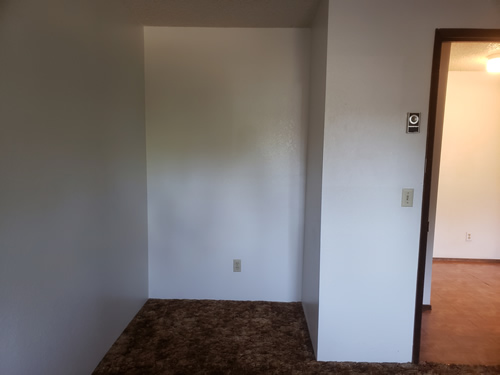 This study area and I have vowed to stay together till death do us part.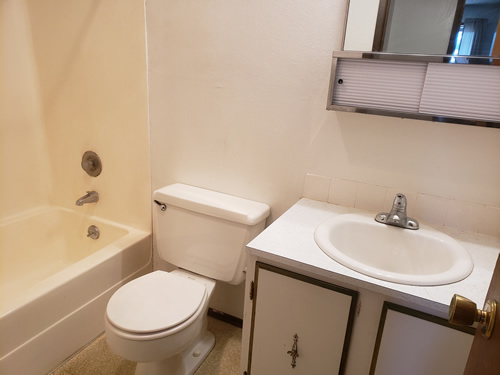 I think I'm aesthetically pleasing, I mean I'm pretty, and I don't even mind long visits.
I'm as big as most of them; I have a good looking tub and a grand shower. I'm here to keep you clean.
Need you more? Here's the
Floor plan
and here's the building's
Apartment Locator
.