A+
by Better Business Bureau Rating (despite not being a paying member)
RENTING TO STUDENTS AND NON-STUDENTS FOR NOW AND FOR FALL 2022. REASONABLE RATES, BEST VALUE FOR YOUR MONEY. TRULY IN GREAT DEMAND (Verify here and here). (We offer cash scholarships to top undergraduates).
THE VALLEY VIEW APARTMENTS: 1425 Valley Road NE, apartment 12; Pullman, Wa 99163
Apartment entry facing north. The Valley View Apartments community consists mostly of two-bedroom apartments (55 two-bedrooms, 8 one-bedrooms). The one-bedroom units here are a hybrid between a two-bedroom and a one-bedroom. In fact, they're like a two-bedroom apartment with only the second bedroom missing: they have two front windows -- the typical one-bedroom has only one; they have five closets -- the typical one-bedroom has three. Compare here: Valley View Floorplans. It's no wonder they are in great demand. The fortunate occupants of these apartments don't let go easily unless unless they leave the area; they usually pass them on to friends in the waiting.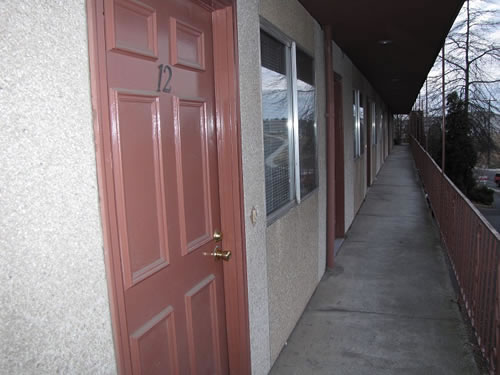 Walking up to the apartment on the second floor.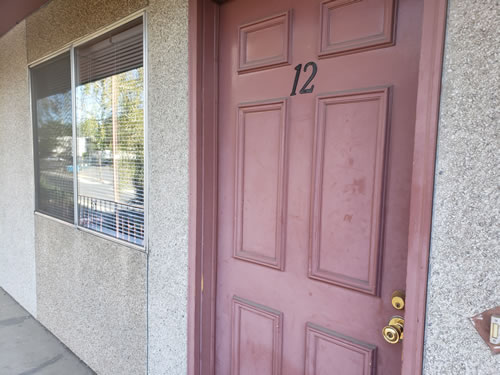 Apartment entry is almost in the middle of the second story and faces north (see it here).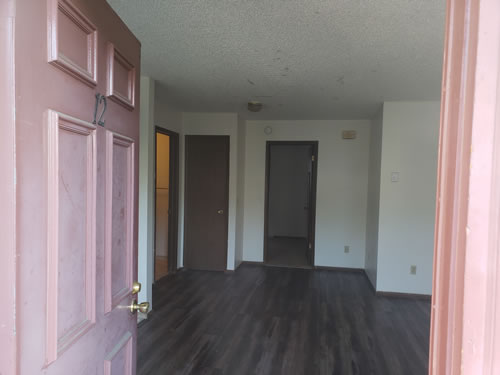 The vinyl plank flooring provides great benefits: looks, cleaning cost and efficiency, health. It improves living.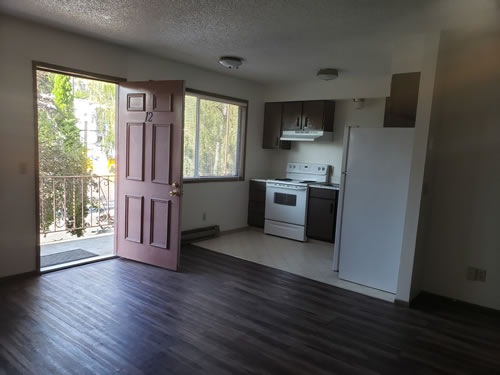 The living room with the dining and kitchen areas.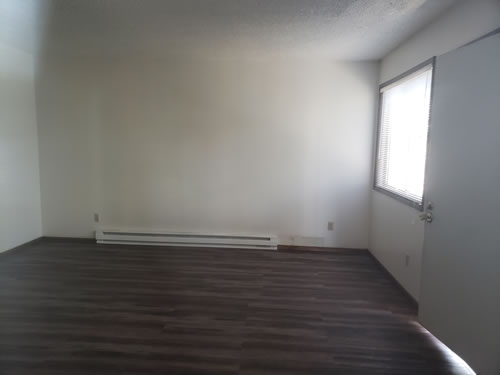 Spacious living room.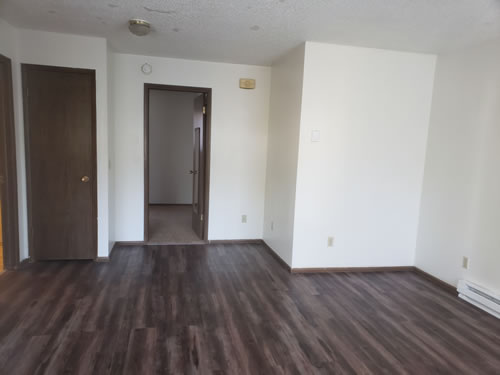 Neat environment.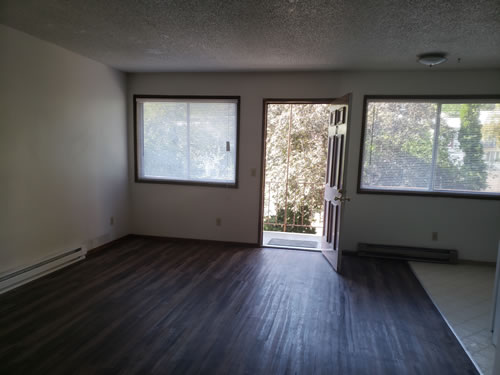 The front of the unit as seen from within the living room.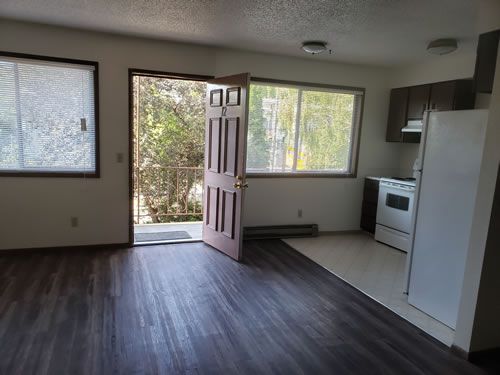 View from the living room: the dining area. Note the two large picture windows.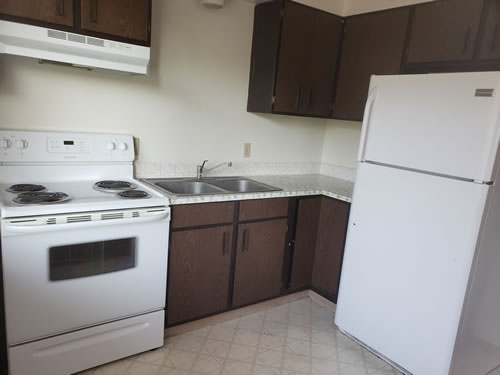 The kitchen has plenty of cupboards and good appliances.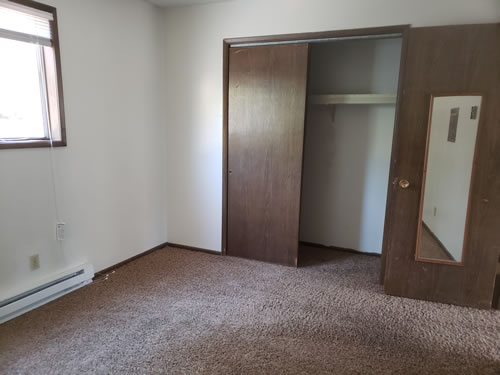 And a full-body mirror doesn't hurt at all.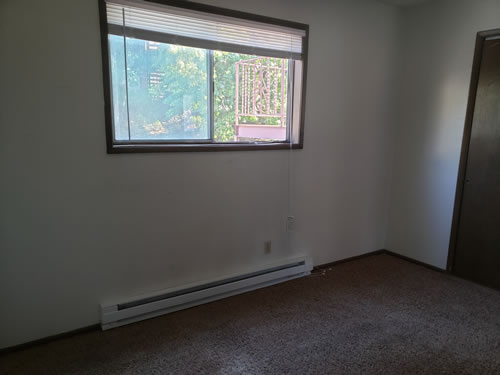 More bedroom pictures.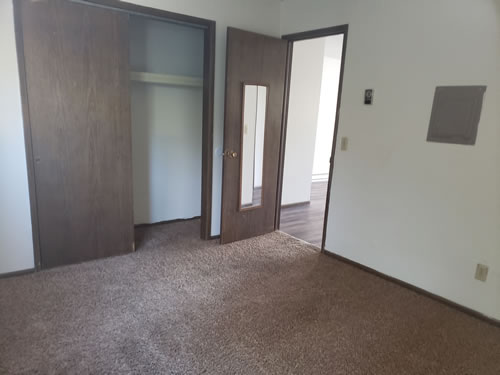 More bedroom pictures.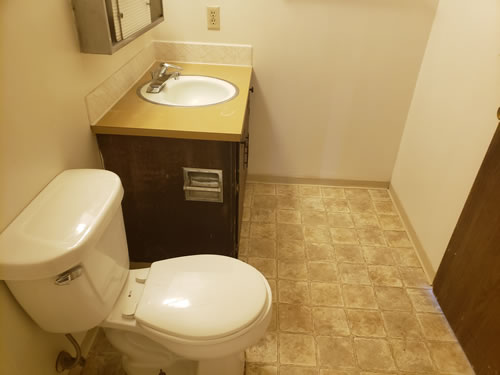 Contemporary, full bathroom with tub-and-shower.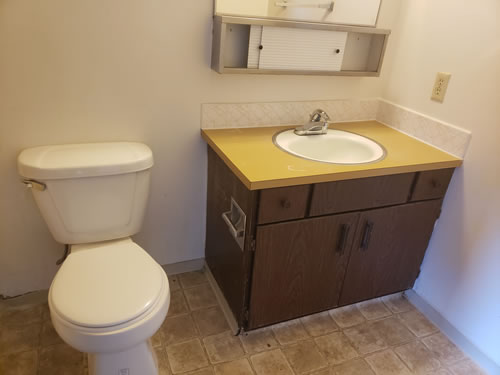 Contemporary, full tub-and-shower bathroom.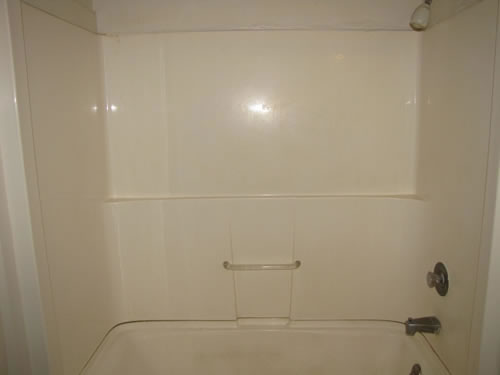 Contemporary, full tub-and-shower bathroom.

The Valley View apartments offer a studious environment close to campus; they feature unusual spaciousness, many closets, exceptional indoor quietness, are economical to heat and always reasonably priced. All Valley view apartments receive natural light from the north (living room, dining room and kitchen) and from the south (both bedrooms). This is a great setup for those in the know. Here's a floor plan of the apartment, and here's is its location in the building.