CHOICE LOCATION: Conveniently located on the east side of Moscow and looking partly toward Moscow Mountain and beyond,
The Elysian Fourplexes
are an exceptional location. East City Park is just a block away, and the well-known
Lena Whitmore Elementary School
is practically across the street. With its 26 fourplexes, THE ELYSIAN has become the flagship of Apartment Rentals in Moscow.
UNIQUE STRUCTURES: Each building has an
indoor entryway
for four apartments only. This entryway helps keep the apartments cool in the summer and saves heat in the winter; it also limits the number of immediate neighbors -- more privacy. Your privacy is further enhanced by the fact that
most walls are not shared
. There are one, two and three bedroom apartments to choose from. Laid out in a campus-like manner with lots of mature trees, shrubbery and parking, the Elysian buildings stand far apart from each other as if to suggest mutual respect, a feeling of open space and un-crowdedness. These large, solidly-built apartments offer great value. There is no way that cheaply-built, box-like contemporary apartments can compare with the elegance of the separate dining room, the spaciousness of the living room, the quiet, warm comfort of the bedrooms, or the inviting convenience of the built-in bookshelves. There is no way that contemporary construction can compare with the solid, multi-layer, fortress-like wall construction of the Elysian. The mature trees and shrubbery in the ample grounds with free off-street parking make this a good choice for your Moscow home. Indeed, these buildings were built at a time of opulence when quality mattered and the building cost per square foot was an unfamiliar concept. Yet, rents are low -- truly a best value.
RENOVATION: The ELYSIAN FOURPLEXES have undergone significant renovation: All new windows, new exterior insulation and new siding clearly mean not only enhanced aesthetics but substantial
energy savings
! Additionally, every building has been thoroughly weatherized by Avista for maximum efficiency. New and improved sidewalks have also being built. Every single apartment has undergone thorough and complete electrical modernization in order to meet or exceed today's standards. All furnaces have been updated. With every opportunity, every available apartment gets painted and thoroughly cleaned and every effort is being made to insure that all works well. Some of our residents have been living at The Elysian most of their lives -- they wouldn't think about moving elsewhere because all-around better features and price value cannot possibly be found. With growing experience, discerning minds keep finding more reasons to like The Elysian. The response has been gratifying. The positive comments from tenants, neighbors, city leaders, mailmen, policemen, vendors and even passers-by have been our reward. All furnaces have been replaced and are checked professionally for maximum safety. Many apartments have new carpeting and laminate flooring, new tile bathrooms and built-in bookshelves. Improvements are being made apartment by apartment as needed, but all apartments have new windows throughout, and all buildings have new exterior siding and insulation. Some tenants report that their heat needs not be turned on in the winter ever since the new insulation with the new double-pane windows was installed. Even bearing in mind that temperature levels are a matter of personal preference, this is significant news especially because heating costs are rising fast.
FOR YOUR HEALTH'S SAKE: The fact that each unit has its own FILTERED CENTRAL HEATING system means that continuously filtered indoor air is not shared with other units; your breathing air is not mixed with your neighbor's air as is the case in hotels, for instance. You can easily appreciate this advantage when you consider the fact that most other apartments, especially recently built ones, rely on baseboard heat, which does nothing to filter, circulate or freshen your breathing air. Clearly, unshared filtered indoor air is preferable to stale, unfiltered, or shared re-circulated air. This is especially significant in the closed-in winter months, and no doubt will result in improved health and a better all-around living experience.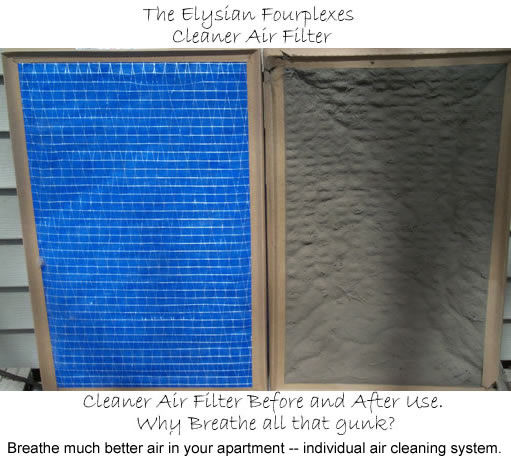 SAVINGS TIPS: The ability to have your own filtered central system also means that you can save on the heating bill by keeping your filter clean or by replacing it frequently. Furnace filters are inexpensive and can be purchased at hardware stores. Some filters can be vacuumed or washed in the tub and put to use over and over again. Re-usable filters offer a good option as they are available locally and only require a quick hose-down once a month; (filter size: 16" x 25" x 1"). With rising heating energy costs, it's especially important to keep your filter in good order to allow the free flow of clean air in your living space. A clogged filter means your heat gets wasted and your breathing air does not get cleaned.
Another way to save on energy costs is to keep the hot water heater at 120 or below. Take advantage of your blinds. During the heating season, keep south-facing window shades open during the day to benefit from the heat of the sun. Close the window shades at night to keep the heat in. Winter nights are long -- the thermostat should be kept down for substantial savings. Hardy individuals have long known that putting on a sweater and turning down the thermostat is not only heat-saving but healthier. Recommendations range from 50 to 60 degrees F (10 to 15 Celsius) when you're in bed, and from 65 to 68 degrees F (18 to 20 Celsius) when you are active. (CAUTION: Persons over 65, infants, and persons with certain illnesses risk hypothermia if they stay in indoor temperatures under 65 degrees (18 Celsius). Ask your doctor if you think you risk hypothermia by turning your thermostat below 65 degrees F (18 Celsius)). And don't forget to keep the outside entry corridor closed. The Elysian corridor system is a great buffer between your apartment and the elements.
ALLERGY SUFFERERS: The Elysian has set aside a few apartments with laminate flooring and special low pile, commercial grade carpeting for people with allergies. These apartments are easier to keep clean as spores, mites and other allergens do not find as good a home. Couple this feature with the Filtered Central Heating and you clearly get a healthier apartment living environment. Availability is limited.
LIVING ON LIGHT: Increased awareness of the importance of light in our quality of life has made many of today's tenants more discriminating. They are delighted to discover that Elysian apartments have windows virtually all around! (See the
Elysian floor plans
below, especially the two and three bedroom apartments). The source of light is maximized this way. This is certainly not what recently built, box-like apartments have to offer.
EXTRAS: The separate dining room offers a touch of home-ness, a means for a more graceful living. And, if you'd like to grow your own vegetables, there's even a
FREE GARDEN PLOT
with free water waiting for you. As the response has exceeded our expectations, we apologize if we are unable to satisfy all the demand.
DID YOU KNOW? Elysium, also known as the Elysian Fields, in Greek mythology, a pre-Hellenic paradise, was a land of perfect peace and happiness. In the works of Homer, Elysium was a land at the farthest and westernmost edge of the world to which the great heroes were carried, body and soul, and made immortal. There they were free to pursue their favorite activities, and worries and illness were unknown. Soon, however, Elysium came to be regarded as the abode of the blessed dead, where the souls of dead heroes, poets, priests, and others lived in perfect happiness, surrounded by grass, trees, and gentle winds and enveloped in rose-tinted, perpetual light. In Roman mythology, Elysium was a part of the underworld and a place of reward for the virtuous dead. For some it was only a temporary paradise. At the edge of its soft, green meadows flowed the Lethe, river of forgetfulness, from which all souls returning to life in the world above had to drink. (Encarta). With the continuing dramatic improvements, The Elysian Fourplexes, unique in appearance, design and function in the Moscow area, are fast becoming a classic address to live at, where spacious heat-efficient, healthy-air living space and comfort can be had at very reasonable rates.
Note: Some Elysian one bedrooms have one closet and some have the closets opposite the window.
Note: all dimensions are approximate.
Typical exterior entry of an Elysian Fourplex. Every fourplex has an interior entryway leading to four apartments: two downstairs (101 and 102) and two upstairs (201 and 202).
This is the downstairs part of the indoor entryway. The lockable mailboxes are here -- we've had to reject the post office's repeated cost-free attempts to centralize them by the street. Your convenience counts.
Apartments 201 and 202 share a landing upstairs.
View of the indoor entryway from upstairs.