A+
by Better Business Bureau Rating (despite not being a paying member)
RENTING TO STUDENTS AND NON-STUDENTS FOR NOW AND FOR FALL 2022. REASONABLE RATES, BEST VALUE FOR YOUR MONEY. TRULY IN GREAT DEMAND (Verify here and here). (We offer cash scholarships to top undergraduates).
THE ELYSIAN ANNEX APARTMENTS: 1210 East Fifth Street; Moscow, Id 83843
Space and Convenience
One Bedroom Apartments
1210 E. 5th. Office at 1122 E. 3rd #101A Ph. (208) 882 4721
MOSCOW, ID 83843



EXTERIOR PICTURES


INTERIOR PICTURES

1210 East Fifth Street, apartment 1

1210 East Fifth Street, apartment 2

1210 East Fifth Street, apartment 4

1210 East Fifth Street, apartment 5

1210 East Fifth Street, apartment 6

1210 East Fifth Street, apartment 8


FLOOR PLAN


LAYOUT


ELYSIAN GROUNDS LAYOUT


Start Over

The

Elysian Annex Apartments

are located at 1210 E.5th, at the southeastern tip of THE ELYSIAN FOURPLEXES (see layout, top right below). Those familiar with the AEGIS Apartments in Pullman will recognize the identical floor plan from which this floor plan was copied. This building is scheduled to be covered with tri-tone vinyl siding just like its anchor, THE ELYSIAN FOURPLEXES proper. Several of its apartments have already been or are being upgraded. One great feature of these apartments is the built-in desk and shelves. Other features include a quiet ambiance, an undeniable spaciousness and the huge evergreens outside.

This building has been thoroughly weatherized by Avista for maximum efficiency.

New siding -- tri-tone beautification
552 square feet.
Spacious apartments
Water, garbage and sewer - free of charge
Stove and Refrigerator
Cable-ready
Laundry facilities on site
Free off-street parking
Landscaped courtyards
Community garden
Great residential neighborhood
Close to East City Park
Completely weatherized by Avista
Professional in-house management on site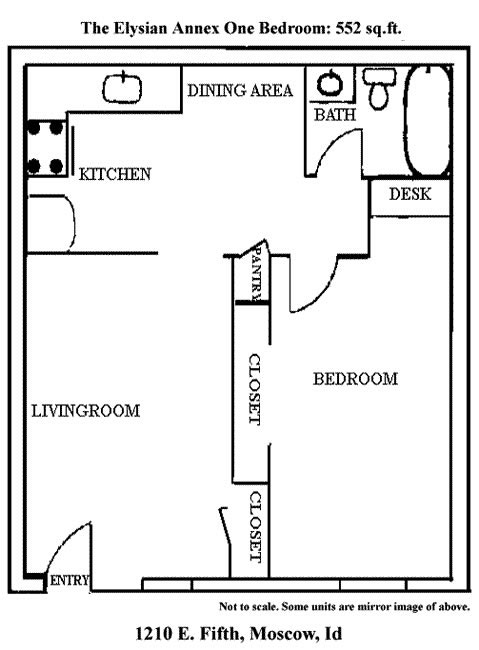 Note: Some floor plans are reversed, i.e. what's on the left will be on the right.