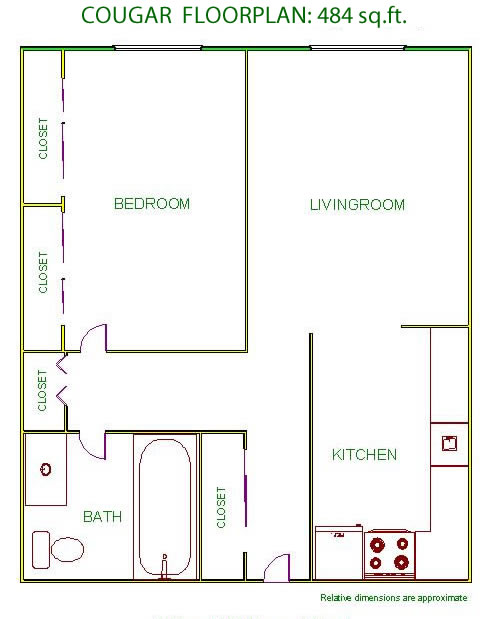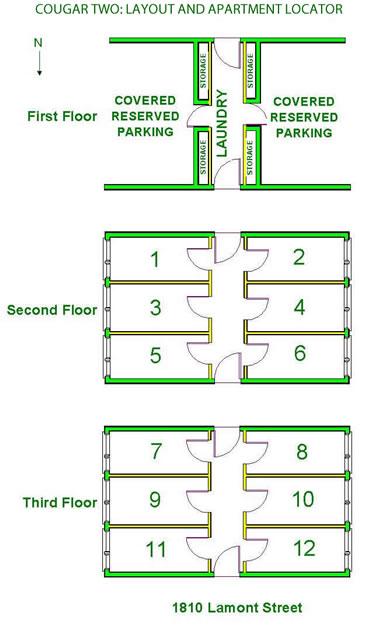 THE COUGAR LEGEND        


THE COUGAR CONCEPT. In Pullman, Washington, "Cougar" does not primarily signify a wild animal.   Instead, it's a solemn identification, a badge of pride and belongingness, and much more than can be crafted into words. Cougar or "Coug" is a complete concept. Among the cognoscenti, "cougar-ness" must be felt to be understood. It's a notion that exists in one's gut. If you're from Pullman or currently live in Pullman, or if you're in any way associated with WSU, you don't need anyone to explain the term to you. You're already a certified authority, and you'll want to know about The Cougar Legend for that and that alone.

CONCEIVING AND BUILDING THE COUGAR APARTMENTS. Luis N. (an altered name), a widower who built the first Cougar apartment building at 205 Larry Street, was one of the most ardent Cougars. Indeed as a WSU alumnus, he felt genuine "cougarite" running in his veins and guiding his actions. Filled with unbound enthusiasm, he conceived of the idea to create a Cougar apartment community.

After graduating from WSU, he worked in Real Estate for many years and saved all he could for his dream. His plan was to strategically position three buildings on his hill property to best capitalize on the topography. He contracted an experienced architect to draw up the plans. With the help of a bank loan and without delay, construction began in earnest. The first building, an 18-unit three-story structure, was to majestically occupy the lower part of the hill. Luis himself pegged a sign with the building's name in the most visible spot on the ground with the greatest of pride. "COUGAR APARTMENTS" in large letters proclaimed the Cougar's arrival on the Pullman apartment scene. Indeed, Luis was the first to apply the Cougar name to an apartment building in Pullman!
DEATH OF THE FOUNDER. Unfortunately, shortly before the first Cougar building could be completed, the founder suffered a fatal heart attack. Hardly had poor Luis departed this world than his offspring prepared for a fight. As usual,  money became their focus. Family love and family ties quickly disappeared into thin air. A once up-and-coming project -- to build the first Cougar apartment community in Pullman, was now in undeniable peril. Inevitably, lawyers were called in and wasted no time taking control as their wont. Ways were devised to prolong the conflict. A great deal of money and pointless back-and-forth ensued. The result was more harsh words, ill feelings, and internecine nastiness between the two brothers. Sheer misery! Only after considerable legal expense,  the threat of an impending ruinous lawsuit, and the inevitable loss of family unity, the brothers agreed to liquidate to make inheritance separation possible. 
With all conflicting interests now aligned, selling was thought to be the least unpleasant way out for all concerned, including the lawyers whose unpaid bills were now piling up. Indeed, the brothers' wives had already made plans for the spoils: a new car, a new boat, a prolonged Hawaii vacation, a trip around the world — different forces pulling from different directions converging. 
The father's dream was not merely falling apart: it was receiving a lethal blow. 

YOUNGER SON ACQUIRES FINISHED BUILDING. However, the younger brother announced an epiphany out of the blue, an entirely unexpected change of heart: he felt morally obligated to salvage their father's dream. He decided to pick up where the father had left off. His moral conviction, he felt, was inspired by a superior, almost otherworldly nature. Fanatically parading his newly-found spirit among the family enabled his view to prevail. It did not hurt that the older brother was getting behind in paying his legal bills. An appraiser was hired. A value was determined, and separation became possible. The older son would get the more extensive area of the property where the two other buildings had been started plus a hefty monetary compensation, to be paid by the younger brother -- part immediately and the rest over time. The younger brother would become the sole owner of the finished building (205 Larry St.).

People may think they control their destiny. What if buildings themselves thought likewise?

The younger brother revealed himself to be the perfect fit for the Cougar Apartments on Larry street. He maintained them well and felt satisfied with his choice. However, the older brother and his wife quickly dispensed with the inherited cash and wasted no time putting the land with the unfinished buildings up for sale. The property was listed without much delay, and a willing buyer was soon found.
There's nothing easier than spending unearned money. Money not earned isn't appreciated, let alone deserved.

UNFINISHED BUILDINGS ARE ACQUIRED BY NEW OWNERS. The new owner liked Luis's original plans and decided to use them. Why waste money when you don't need to, was his practical way of putting it. However, he thought his buildings should feature covered parking.   With the covered parking in the Pullman snowy winter months, he figured his apartments would have the advantage and better compete with the otherwise identical building next door, the Cougar Apartments. 

Being lazy of mind and bereft of creative imagination, the new owner eagerly accepted his wife's suggestion to name the buildings after the street name -- Lamont One and Lamont Two. He assigned the higher apartment numbers to Lamont One and the lower ones to Lamont Two for some inscrutable reason. Go figure! Why "Lamont," you may wonder? Ignoring the grammatical gender violation ("la" is the feminine article and "mont" is a masculine noun in French), the word means "the mountain or mount." In the United States, it was once a more popular boy's name.

You can tell a lot about the name giver's level of education and imagination. The name just didn't fit. Unimaginative street and building names abound. People use what they know and what they like. They make illogical decisions, which is their right, to be sure, but how right is it when their decisions make little or no sense? You can name your streets any way you want, same as with your children or buildings. However, using imagination, history, and culture goes a long way toward choosing an appropriate name. A street named "Dan" or "Suzie" reveals quite a bit about the name giver's cognitive breadth and constitutes a wasted opportunity. When you put something out for public use, it behooves you to pick a name with some kind of appeal, is the idea.
By contrast, one can appreciate the superiority of Luis' acumen. You have to agree that the first owner understood something about apartment building marketing. And he was mightily aware of the unique commercial value of the Cougar name.

APARTMENT RENTALS ACQUIRES THE LAMONTS. Time, market forces, the people involved, and their circumstances bring about ownership changes. With advancing age, the time came for Luis' son to shed ownership. He agreed to sell to Apartments West, later known as Apartment Rentals. An attempt was also made to purchase The Lamonts, but the California owners refused to sell. These misnamed sister buildings, situated next to each other, were separated only by name, dress, and ownership. This was like an esthetic injustice crying for correction.

More years went by. The Lamont owners decided to put the property up for sale. As ill-luck would have it, Apartments West was unable to buy the coveted property at that time due to its own financial problems. So it fell to the hands of a competitor, and the separate ownership of these sister buildings continued.

The cry for reunification was heard but could not be acted upon.

Some more years went by. The competitor went bust and had to sell. Apartment Rentals was finally able to pick up the Lamonts such that these sister buildings were finally reunited under one owner exactly according to Luis' original plan. Yet, the injustice was still crying for correction as the name and color were still in the way.

APARTMENT RENTALS COUGARIZES THE LAMONTS. After a few years of owning the Cougar and the Lamonts, Apartment Rentals decided the time was ripe for a formal reunification according to Luis' plan. A radical facelift was determined to be just what was needed. The different colors, one building with Cougar and the other with different colors, were calling for correction. Why not re-side the buildings uniformly? The new siding would be in the original Cougar Apartment colors — WSU's colors, and so it would also be for the Lamont buildings. And while at it, why not add another layer of weatherizing? Three buildings next to each other, same owner, same plan, same colors – an actual reunification. And their names would become Cougar One, Cougar Two, and Cougar Three thenceforth. A super actual reunification indeed. The staff was overjoyed. They wanted to celebrate, but Covid-19 was in the way. If the buildings had a soul or a way to communicate, this might have been the right time to rejoice. Imagine a vast celebration, several buildings get together, and all building hell breaks loose.

Luis, who had conceived the Cougar community idea, must indeed be doing the Charleston in his grave now. His vision, his dream, had at very long last come to fruition. He could now feel becalmed and would finally rest in peace.

Ahhh! All's well in Cougarland.

As a matter of unverifiable fact, it was about this time that some Pullman Cemetery late evening visitors were reported to have heard a long sigh emanating from a particular grave. We were not directly able to confirm this cemetery account. Nor were we able to determine for a fact whether cougar veins contain "cougarite." If you don't recognize yourself in this account, it is intentional; it is in error if you do recognize yourself. Any resemblance to persons living or long gone associated with this Cougar Apartments Legend is fictionally coincidental.