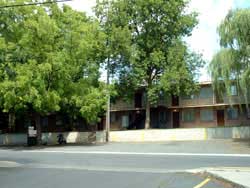 EXTERIOR PICTURES

FLOOR PLANS

INTERIOR PICTURES

200 Lauder, apartment 2

200 Lauder, apartment 4

200 Lauder, apartment 5

200 Lauder, apartment 6

200 Lauder, apartment 7

200 Lauder, apartment 8

200Lauder, apartment 9

200 Lauder, apartment 11

200 Lauder, apartment 12

200 Lauder, apartment 13


APARTMENT LOCATOR


Start Over
Close to the University of Idaho, The Notus with its 13 one-bedroom apartments offers a number of amenities, including on-site laundry and additional, individual storage closets in the laundry room. Each unit has its own room-controlled electrical heating. Parking is in front of the building and off the street. These compact and efficient units are easy to keep warm in the winter, and stay comfortably cool in the summer.

This building has been thoroughly weatherized by Avista for maximum efficiency.
One bedroom apartments
400 sq. ft.
Very close to UI
Extra storage closets available
Stove and Refrigerator
Cable-ready
Water, hot water, garbage/sewer fee -- free of charge for apartments 3, 4, 5, 10 and 11(many apartment complexes don't offer all of this free!)
On-site laundry facility
Free off-street parking
Large willow trees
Completely weatherized by Avista
Professional management
Did you know? Notus, in Greek mythology the south or southwest wind, called Auster by the Romans, was the Brother of Zephyrus who was the god of the west wind. He was the son of the Titan Astraeus and of Eos, the goddess of the dawn. Zephyrus was said to be the husband of Iris, the goddess of the rainbow and a messenger of the gods. His brothers were Boreas and Notus, the gods of the north and south winds, respectively. (Based on Encarta). By contrast with The Zephyr Apartments which are on the west part of Moscow, The Notus Apartments are on Moscow's south part, hence their name.